At Limitless Volume, we offer a complete program that's the best day trading training for beginners you will find. If you know nothing about this profession and want a strong enough background education to become a professional day trader, this is it. Many of our graduates now trade for a living… because of what they learned from this training! Keep reading this page to learn more or check out our curriculum directly with a 7-day, no obligation Free Trial.
     Everyone's heard of someone who knew nothing about day trading and made $5k after taking a weekend course. Rarely do you get to hear the rest of the story when he lost every bit of it and then some the very next day. The fact is day trading stocks without proper training can be a quick way to complete financial ruin.

     Even if you have a good financial background, it is not recommended to jump into day trading without strategies you can only learn from using certain tools (like a simulator) and sometimes years of training.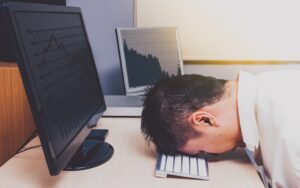 It's unfortunately common for beginners to pay companies for day trading training only to find out all too soon what they learned was inadequate. While NO training at all is a definite no-no, the wrong training can also be just as detrimental to your account. If your education program does not provide the proper tools or simulator to practice first, you will not have the best strategies for successfully making money in the live market.
The best day trading training must offer beginners both didactic and hands on learning.
Successful Training = Successful Trading
     The right training should include all the necessary ABC's in an easy to digest program built for people who have no background in the market whatsoever. The end result should be a trader who's confidently prepare with all the right skills, tools and strategies to make money day trading stocks. The best training for day trading would also include access to a simulator where beginners can get the feel of the live market without risking any money.
     It's also wise to invest in a day trading training company who has experienced traders running the show. Instructors who make money day trading stocks for a living using the system they're teaching makes learning it successfully more fun and much easier!
     At Limitless Volume, we offer the best day trading training for beginners available. Our classroom training arms traders with the best strategies and the most state of the art simulator tools available. Hands on learning during the open market is also an important part off the education we offer; watch Daryl and other experienced traders and instructors show you how to make money day trading stocks live using the strategies and tools taught in the Limitless Volume system.
All the Traders in our room who now make a very good living (and started out as complete beginners) agree Limitless Volume is one of the best day trading training companies out there! Our company prides itself on transparency and are glad to show you what we have to offer – with a no obligation 7-day FREE Trial….

Access your FREE 7-Day Limited Trial here.